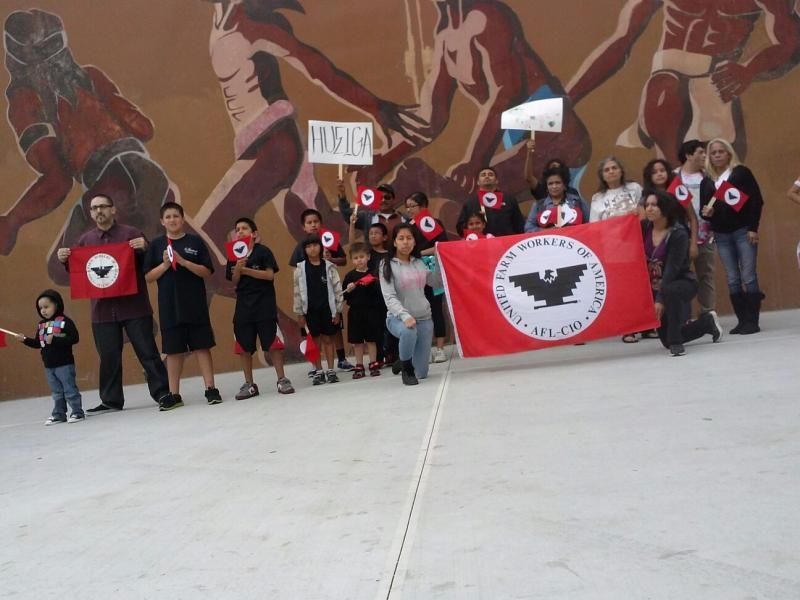 Photo taken of Huelga Bird Workshop on Cesar Chavez Day (CARAS) at San Ysidro Park in Gilroy, Ca 2014

SBR conducts annual Huelga Bird Workshops every March and April in honor of Cesar E. Chavez. Depending on the age group and availability, Huelga Bird Workshops are flexible and can be turned into a one day workshop or a into a full class course.

During Huelga Bird Workshops, youth learn about Cesar Chavez's upbringing in East Side San Jo, his experience as a Pachuco, the meaning of the Huelga Bird and colors, the UFW's non-violent movement, how to create a flag, a picket sign and march in their communities. Huelga Bird Workshops have been facilitated in middle and high schools, juvenile facilities, community centers and probation mandated classes all throughout the Bay Area.



Photo taken of Huelga Bird Workshop at 49ers Academy in East Palo Alto 2012

In 2015, SBR plans on expanding our Huelga Bird workshop to a field trip to experience firsthand what farm worker families are challenged with in the fields of N. California.
Want more info? Would to get involved? Want to donate funds or materials? Want to have our Huelga Bird Workshop in your school, youth program or event? Contact us at (408) 661-2604 soulerosball@gmail.com

Photo taken of Huelga Bird Workshop on Cesar Chavez Day at the Boys and Girls Club in East San Jose 2014